Technical Furniture Solutions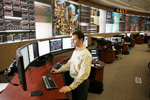 Command & Control Room Console Furniture
Applications include SCADA (Supervisory Control and Data Aquisition) & DCS (Distributed Control Systems), along with other command & control room operation centers. Due to the mission critical nature and multi-shifts in these environments, ergonomics plays a vital role in designing the proper control room console furniture solution.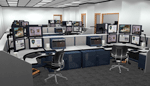 911 Emergency Operation Center (EOC) Dispatch Consoles
Emergency Operation Center (EOC) dispatch consoles for 911 & EOC environments. Multi-shift accommodations with electronic height adjustability for sit/stand stations, personal climate control with forced heat and cooling fans for customizing environmental conditions, mount up to 5 monitors on a single adjustable arm.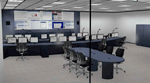 Network Operations Center Console (NOC) Furniture
Network Operations Centers or NOCs usually have a video wall as the main focal point with operator console stations positioned around the video wall. Often times a NOC is designed to show off to visitors, nothing makes a NOC pop like a custom video wall with large LED/LCD displays encased with aesthetically pleasing millwork. We provide custom video wall solutions, integrated video switching, along with full service installation.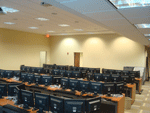 Simulation & Training Consoles
Simulation Consoles are used in applications where equipment is being simulated and tested. Training Room or Simulation Rooms typically are a classroom environment designed to simulate the live environment. Our Simulation & Training Consoles can be very basic to accommodate the smallest budget or can include all the advanced features of a live control room or operation center.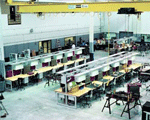 Assembly/Testing, & Packaging Stations
A versatile bench style setup includes overhead lighting and a multi-purpose frame design. Our bench style frames allow for multiple mounting positions to mount bins, monitor arms, shelving, white boards, tack boards, etc... Perfect for industrial or manufacturing areas where job functions include product assembly, testing and/or packaging. Other options include ESD work surfaces with grounding, electronic height adjustability for multi shifts.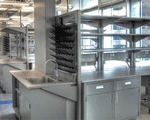 Wet/Dry Lab Furniture
Symbiote UltraFrame Laboratory Furniture is GREENGUARD Indoor Air Quality Certified®. It provides a seamless integration of storage units, height-adjustable tables, mobile carts, shelving, power and utilities. Space utilization is maximized yet reconfigurable to minimize the cost of future changes within your lab environment.