Datapath Products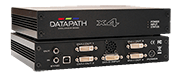 Datapath X4 Wall Controller
The Datapath x4 is a stand alone display wall controller that accepts a standard single or dual-link DVI input and can flexibly display this across four output monitors.
Each output can be driven as DVI or analog RGB, and can represent an arbitary crop region of the original input image. The output resolution and frame rate does not need to be related to that of the input, as the Datapath x4 display controller will optionally upscale and frame rate convert each cropped region independently.
The X4-1U is also available for rack mounting applications. The X4-1U includes universal 19 inch rack-mount brackets.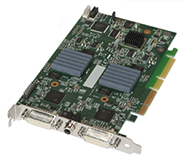 Datapath Video Capture Cards
Datapath's Vision range of capture cards provide a variety of high or standard definition capture capabilities as well as audio in some models. Video capture modes supports include Single or Dual Link DVI, 3G-SDI, HD-SDI, RGB, Component YPbPr, Composite video and S-video.
Datapath products have been developed for a wide range of applications such as video streaming, medical imaging, video conferencing, machine vision,display walls and video walls. Whether you are looking for video capture for streaming, recording or presentation applications Datapath has a solution.