Datapath Wall Controller, X4 and X4-1U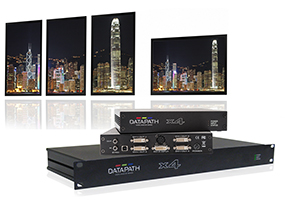 Creative Monitor Arrangements
4 x 4 or larger video walls


portrait or landscape monitor orientation


ideal for edge blending projectors


supports bezel width & height correction


accepts single or dual-link DVI or HDMI*


*HDMI input requires DVI/HDMI adapter
Datapath X4 Brochure
The Datapath X4 is available as a stand alone wall controller in a slim form factor or for rack mounting requirements the X4-1U ships with universal 19" rack-mount brackets. Datapath's X4 video wall controller can display high resolution image or video content through a standard single or dual-link DVI input. Equipped with 4 DVI-I outputs, the Datapath X4 can flexibly display the source content across four displays. Use multiple X4's to display your content across larger video walls, consisting of up to 32 outputs.
Each output can display the entire source content or a specific cropped region of the image or video input. The output resolution and frame rate does not need to be related to that of the input, as the Datapath x4 display controller will optionally upscale and frame rate convert each cropped region independently.
Each output monitor can display any region of the source DVI image or video, since all the required cropping, scaling, rotation and frame rate conversion is handled by the X4 hardware. These regions can also overlap to allow any output to replicate another, or they can be configured to support any creative splice of the source material.
This allows the support of many non-rectangular and odd screen arrangements with uneven gaps, and any mix of portrait/landscape orientations.
Datapath's website:
www.datapath.co.uk